What is Robotic Accounting and what do you get out of it as a Financial Officer?
Last week we wrote about the rise of the accounting robots and how this will change the landscape of the finance department in 2020. But what is that, robotic accounting? And what's in it for you as a financial? We figured it out for you.
What is robotic accounting?
Very flattened, robotic accounting ensures that invoices enter the accounting system without any human interference and without errors.
The 'robot' in this case is an algorithm that takes over the work of humans. He does this in various ways, for example by reading the data from a scanned invoice to fully automatic booking of the invoice without human interference.
The purpose of robotic accounting is to book an invoice without any human intervention. A robot can do all this much faster than a human being.
What is the benefit of robotic accounting for me as a Finanical Officer?
There are two concrete advantages for robotic accounting:
You need fewer people for the same amount of work
You have more time left for checks & qualitative analyses
Robots can take the repetitive work out of people's hands and can do this work faster than people. A robot is also able to work flawlessly and in cases a robot can even take over the work completely.
An additional advantage is that there is more time left for checks and qualitative analyses. In this way, more attention can be paid to what impact can be made in the organization.
It's all very nice, but what good does that do for you as a financial person? Actually, the answer is very simple. The robot is able to take over the entire process from input to data and the final booking.
The impact of robotic accounting is therefore great. Your invoice processing is even more efficient and your supplier is happy as well. After all, he gets paid faster.
Getting started with Robotic Accounting?
Do you want to know how robotic accounting can work in practice for your organization? Then wait until our next blog, in which we tell you how robotic accounting can work in combination with invoice recognition. Don't feel like waiting for that and want to know immediately what this latest trend can do for you? Then download the white paper Robotic accounting today. We will tell you all the ins- and outs about the future and what you can do about it today.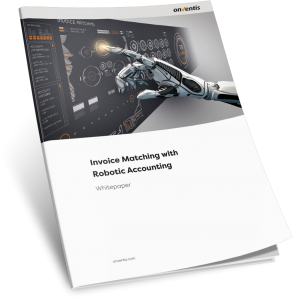 Invoice Matching with Robotic Accounting
Weitere BlogsMore BlogsMeer blogs