How a multibillion-dollar group and global market leader organises and implements its sourcing activities
How do you deal with sourcing if you operate all over the world? How do you reap the benefits of central control but still local implementation? And how can tooling support you in this?
These questions and more will be addressed in this free English-language webinar especially for NEVI members & Onventis customers, in which Philipe von Spiegel (Purchasing Process Management & Digitalization) will explain on behalf of SCHOTT AG how they deal with the above issues.
He also dives into topics such as monitoring P2P processes and continuously improving efficiency. Of course, the global approach to sourcing at SCHOTT AG as the market leader in the glass industry will also be discussed.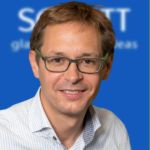 Education
M.Sc. in Business Studies and Economics at the Växjö University/Sweden
Work experience
• Automotive
• Media
• Software
Current position
• Since 2007 at SCHOTT AG
• Process Manager in the purchasing department
• Responsible for process optimalization and digitalisation for SCHOTT-teams worldwide
Schott AG, based in Mainz (Germany), is an international technology group and one of the world's largest producers of technical glass and glassware. Its turnover amounted to EUR 2.52 billion. It employs 17,300 people in 56 countries. The product range includes, in addition to the classic areas of glass, special glass types, laboratory glassware, glass-ceramic materials and optical components, also photonics, fibre glass technology, precision engineering and solar energy. Schott's main markets are household appliances, pharmaceuticals, solar energy, electronics, optics and the automotive industry.