Expense Management
Simplify the approval and management of travel expenses and expense reports.
Automate Expenses
Submit receipts and distance travelled with the mobile app and auto-complete financial registration (cost center, ledger account).
Reduce Process Costs
Through a high level of automation across the entire processes of a company, the associated process costs can be sustainably reduced.
Reimburse Quickly
Approved expense claim reports are automatically exported to the financial system for reimbursement to the employee.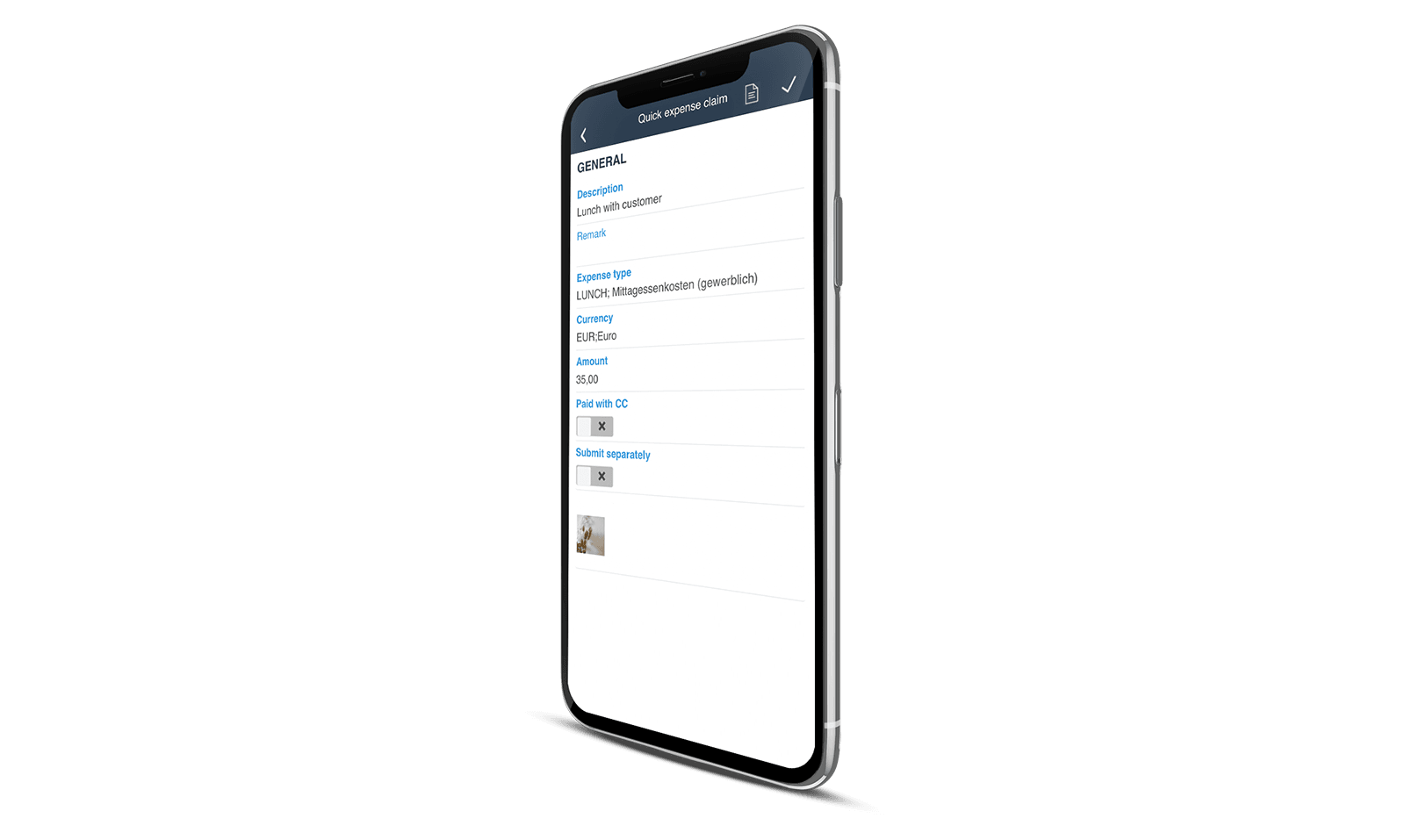 Submit receipts and travel expenses on the go
Your staff doesn't have to turn in paper receipts anymore, and your finance team doesn't have to handle them. Thanks to our mobile app – for iOS & Android – your team members can easily submit receipts and distance travelled for reimbursement. They take a picture of the receipt, indicate the costs incurred, and the app does the rest. The submitted receipts go into the expense report with the miles or kilometers travelled. After a week, a month or a trip, at their convenience, employees can submit their expense reports.
Set up your employee expense claim policy
During the implementation of Onventis Expense Management, guidelines for expense management regulations can be easily set up. These can include maximum reimbursements or allowances and other factors your organization may require. If a receipt does not comply with the company-specific policy, this will be visible in the expense report. For example, an employee can then request a special request for reimbursement. This request is highlighted in color when it is approved by the supervisor.
In Onventis Expense Management, each employee is also assigned a cost center. If an employee submits a receipt, it is automatically assigned to the appropriate cost center and the receipts (lunch, travel, parking fees, etc.) are posted directly to the correct ledger account.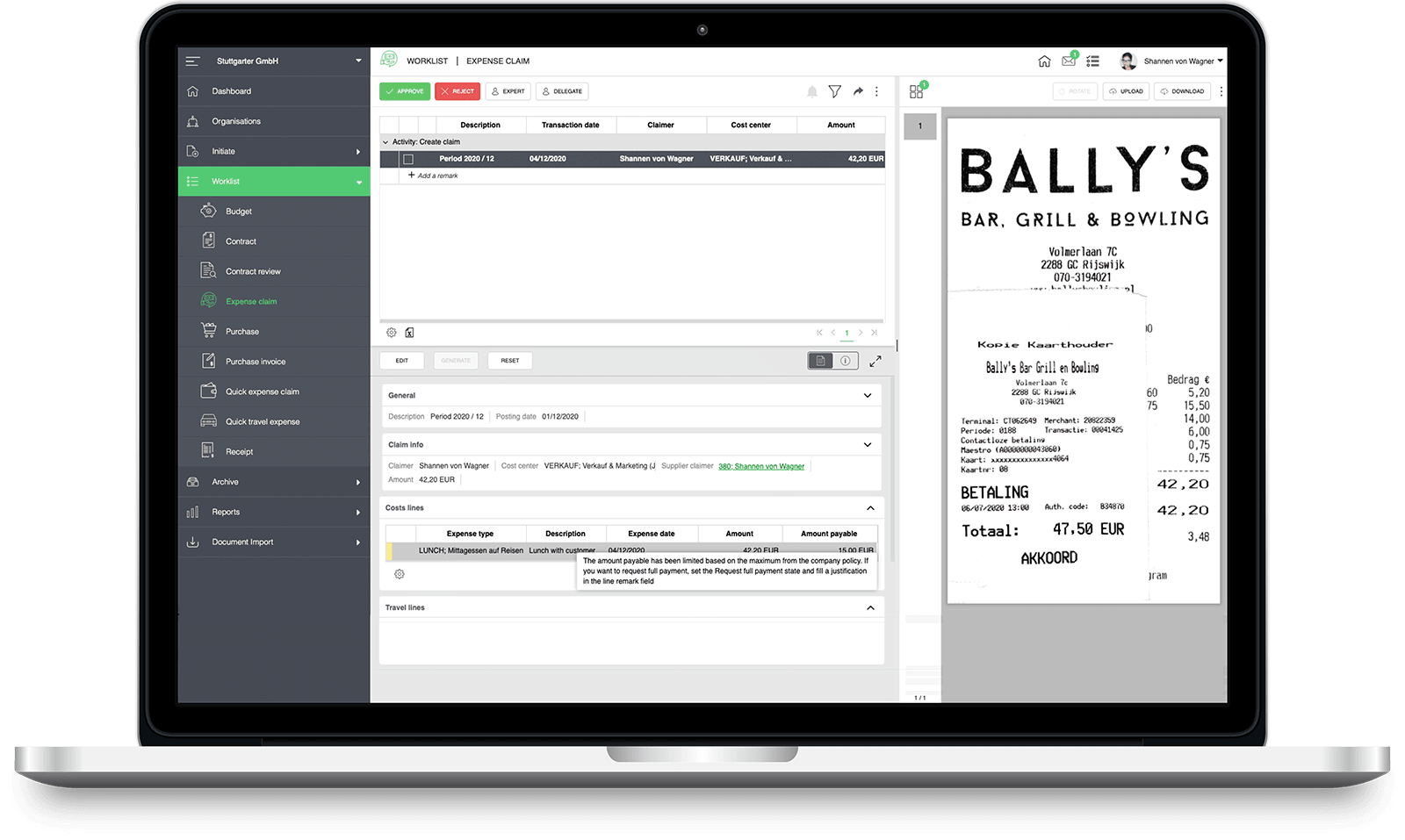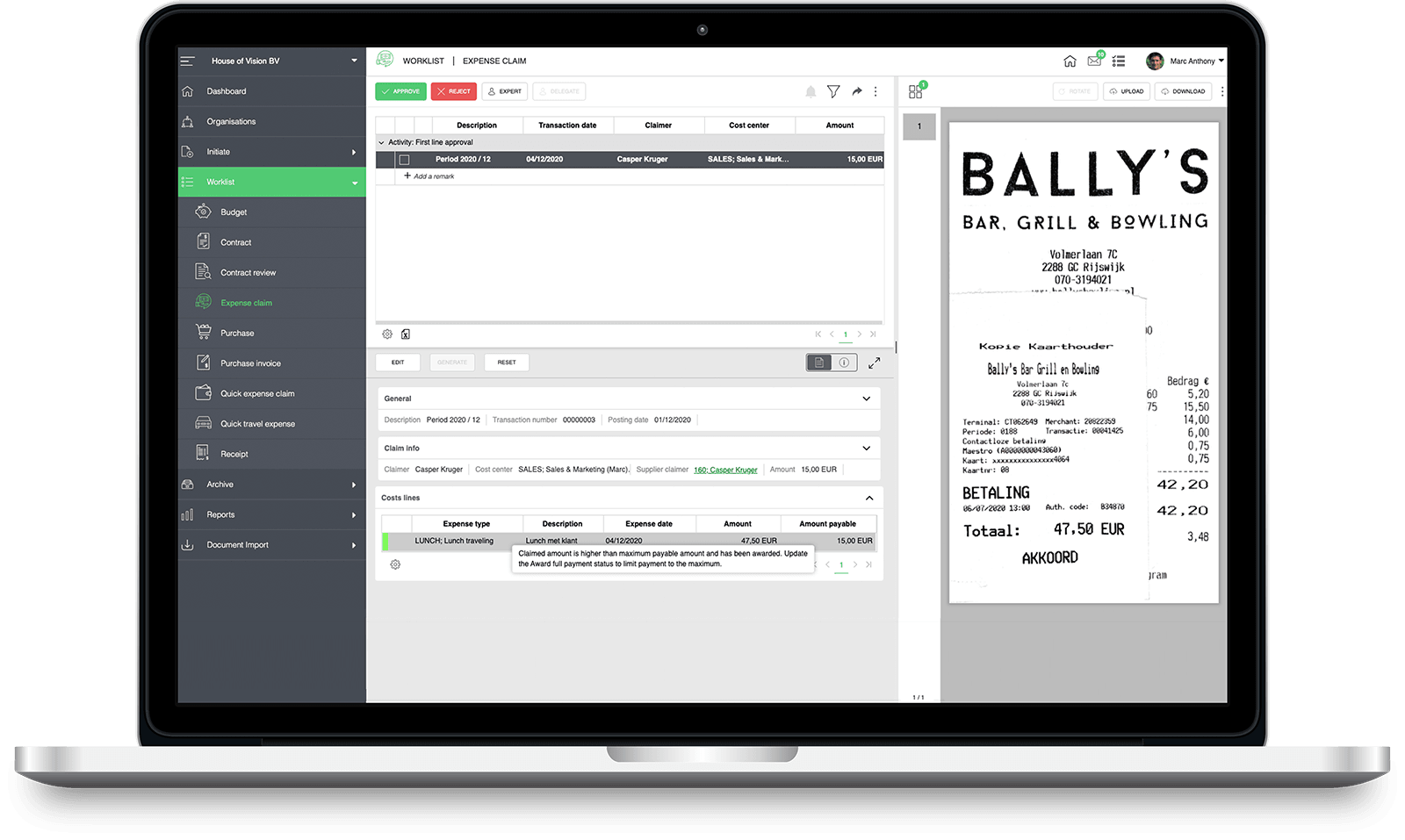 Verify financial registration, approve and pay claims
The submitted expense claim report goes through the workflow to the administration team. Team members check for the correct financial registration, VAT or sales tax reclamation and any other factor your organization may require. After admin approval, the claim goes to the responsible manager for approval.
In a simple overview, managers see what each of their staff members have claimed in a given period. They can easily see a special request for a payout of larger amounts and authorize or reject these exceptions to the usual limits.
Approved expense claim reports are automatically exported to the financial system for reimbursement to the employee.