HOW-TO Optimize your S2C: Be on Top of All your Contracts
In this mini-serie we will give you some tips on how to optimize your source-to-contract. This second article will explain you how important contract management is for your S2C-activities.
Close your eyes and think of a place where all your contracts are in one place. Where the contract owner gets a notification whenever one of his/her contracts is about to expire, meaning they know exactly when they have to request a renewal or they can send out a RFQ to multiple suppliers.
Automizing your contract management is low hanging fruit and therefore should be something to directly take action upon. It is 2021, there is no reason why there should still be a printed version of a contract which is stored in some cupboard (where did we put it again?) somewhere on the 1st floor of your office. Digitalizing and centralizing your ontracts should be something to get started on right away.
In so many contracts nowadays it says in the fine print that the contract will be extended for a year if not cancelled at least one month beforehand. By digitalizing the contracts this will be history as you will be alerted as soon as a renewal date is upcoming.
And the same goes for filing the contracts. The days can/should be over that we would have to walk to the filing cabinets on the 6th floor with all the old contracts. Or having to bother a colleague from a different department just because he or she is the one managing that file/contract. Digitalization offers the possibility for everyone who is authorized to access contracts, to simply access them online.
Obviously digitally managed contracts offer plenty other benefits such
as separate uploads of documents (important correspondence)  and/or direct access to the most important part of a contract. So no more endless browsing through contracts searching for the terms and conditions.
Where can I find that contract again?
Can't wait for the rest of the blog-series?
Download the whitepaper now and discover more tips & tricks for your Source-To-Contract!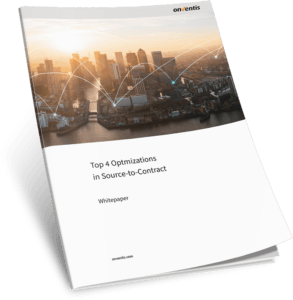 Top 4 Optimizations in Source-to-Contract